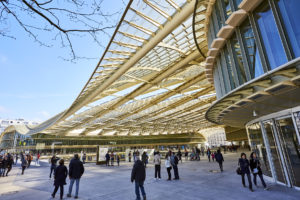 The renovation project of the Forum des Halles in Paris, designed by architects Patrick Berger and Jacques Anziutti, consists of a building with curved forms of plant inspiration: The Canopy, a term which designates the upper part of the forests. Like a huge translucent leaf waving at the height of the treetops of the garden, the Canopy shelters two buildings of public facilities and shops, arranged around a patio which will become the new heart of Les Halles.
CASTEL ET FROMAGET erected the framework for the project led by Vinci, using four tower cranes and mobile cranes. The roof of the Canopy is made up of 17 translucent louvres with a range of up to 96 meters. The structure required 6,000 tonnes of steel and 14,000 m² of glazing.
A site complexified by the situation in the heart of Paris, on a busy site with the passage of more than 700,000 people per day.
PROJECT INFORMATION :
Localisation : Paris 1er, France
Surface : 24 000 m²
Height : 14.5 m
Amount of work : 216 M€
Client : Ville de Paris
Project manager : Patrick Berger et Jacques Anziutti Architectes
Structural consultant : INGEROP
Construction : Chantiers Modernes / VINCI Construction
Our participation :
– Number of participants: 1 engineer
– Phase: VISA
– Verification of EXE plans
– Study of vibrational comfort / Dynamic effects