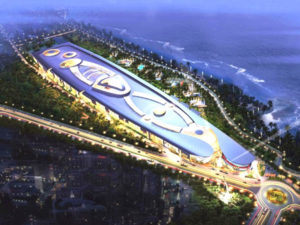 Construction of a shopping centre on 2 levels of underground parking.
Covering an area of ​​10 hectares, the Morocco Mall is the largest mall project in North Africa with modern design, aesthetic forms and innovative materials options
A panel of over 200 of the most prestigious brand shops in the world, as well as a one-hectare hypermarket, will constitute this complex totalling 200,000 m² of surface built on the cornice of Casablanca.
This impressive mall will offer original leisure activities with a variety of restaurants: SPA, Skating rink, Funk park, Imax Cinema and sixty establishments.
The building, which will be entirely covered with glass windows, will include a central square decorated with a starry sky around a gigantic aquarium.
PROJECT INFORMATIONS 
Location : Casablanca – Maroc
Surface : 90 000 m²
Height : 14.5 m
Amount of work : 236 M$
Client : AL AMINE Investissement Immobilier et Galeries Lafayette
Architecture : DI INTERNATIONAL and ARCHIDESIGN
Project manager : Oger International
Structure consultant : SETEC et SABE
Construction : Société Générale des Travaux du Maroc
Our participation :
– Number of participants: 1 engineer
– Phase: Design / calculation of structures / finite element models (Robot + SCIA PT
2000)
– Establishment of calculation notes and EXE plans