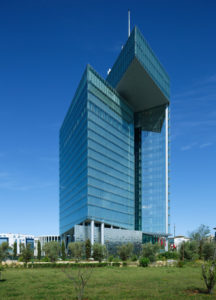 Construction of a 27,430 m2 SHON building including 19,700 m2 of offices in Rabat, Morocco.
87 m high building, R + 20, with 4 underground parking levels of approximately 410 spaces.
The building consists of 2 close triangles with a common core, in the upper part a 28m overhang. Three levels of service which include:
– a restaurant with 140 seats and a cafeteria for a total of approximately 500 people,
– a museum on 2 levels of 820 m2,
– a 155 m2 showroom,
– a medical centre,
– a circular auditorium 40 m in diameter outside the tower will accommodate 600 people.
The structure has a full-height glass facade, double skin with deployable and adjustable metal blinds inside that fulfil customer's desire for environmental quality.
PROJECT INFORMATION
Location : Rabat- Maroc
SHON tower surface: 27 430 m²
SHON auditorium area: 2 290  m²
Height : 90 m / 20 étages
Amount of work : 100 M$
Client : AL AMINE Investissement Immobilier et Galeries Lafayette, Maroc Telecom
Architectures : Jean Paul Viguier and Associes
Project manager : Jean-Paul Viguier and Associés & Omar Kobbite
Delegated contracting authority : ARTELIA
Structure consultant : SETEC TPI and SABE
Construction : Société Générale des Travaux du Maroc
Our participation  :
Number of participants: 1 engineer
– Phase: Design / calculation of structures / finite element models (Robot + SCIA PT 2000)
– Establishment of calculation notes and EXE plans