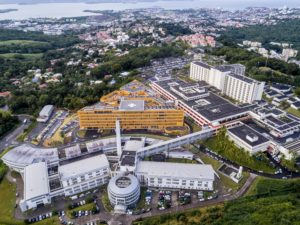 The project concerns the construction of the technical platform bringing together the medical and surgical activities of the University Hospital Center of Fort de France in Martinique.
The new technical platform is a reinforced concrete structure, the bracing system of which is ensured solely by facade sails, patios and elevator shafts and staircases. It has no dividing wall which leaves great flexibility of development or redevelopment.
The peculiarity of the design is that there is no expansion joint and that the building has the shape of an isosceles triangle whose length on one side is 128m. This choice provides a health guarantee, improves overall stability and ensures better operability in all circumstances, especially under earthquakes.
Due to its exceptional dimensions, the stability and integrity of the structure are ensured by an unconventional foundation system. The building rests on a set of 298 insulators from Ø500 to Ø850 and 36 shock absorbers of 200t.
PROJECT INFORMATION
Location : Fort-de-France, Martinique
Surface : 28 000 m²
Levels : R+6
Amount of work : 110 M€
Client : CHU Fort-de-France
Project manager : SCAU architecture firm and SNC LAVALIN design office
Structure consultant : ITC (Ingénierie et Technique de la Construction)
Construction : SOGEA/SIMP/CEGELEC
Our participation :
– Number of participants: 1 engineer
– Phase: EXE
– Earthquake resistant design
– Execution study